Following the recent accusations by Eddie Jones, England's Rugby coach that the Australian Rugby team where doing things illegally, the head Australian head coach, Michael Chieka, had on Monday, returned fire to his England counterpart, warning him to avoid tarnishing his reputation in his homeland.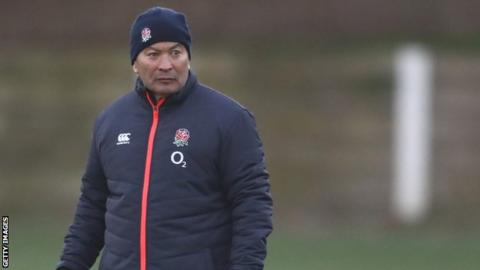 Australia will be meeting England at Twickehham on Saturday, a game which is guaranteed to be a fiery one.
However, England will be without two of her key players, winger Elliot Daly, having been sent off and slammed a three week suspension due to a red card received in the game against Argentina, and Billy Vunipola, who will miss the game due to a knee ligament damage.
England will be hoping to secure a 14th consecutive victory so far while Australia will hope to revenge their 3-o whitewash last summer.
And following the win over the Pumas last Saturday, Jones asked for a meeting with the referee for Saturday game, JacoPeyper so as to address what he calls "technical issues" around the Australian scrum.
Chiekaalso went on to accuse Dan Cole, England's prop of building a career based on illegal scrummaging and was quick to point out that the English front row had been on the ropes in the game against Argentina just before halftime which saw Cole sent to the sin-bin while Facundo Isa, Argentinian replacement went on to score.
"He [Jones] wants to talk about our scrum because we're cheating in the scrum, I think an important thing to note is he's got to look at his own players,"
"Because they are the ones who got a penalty try [Isa] against them and a prop with a yellow card.
"That same prop [Cole] has been infringing the law since his career started probably, if not all of this year."